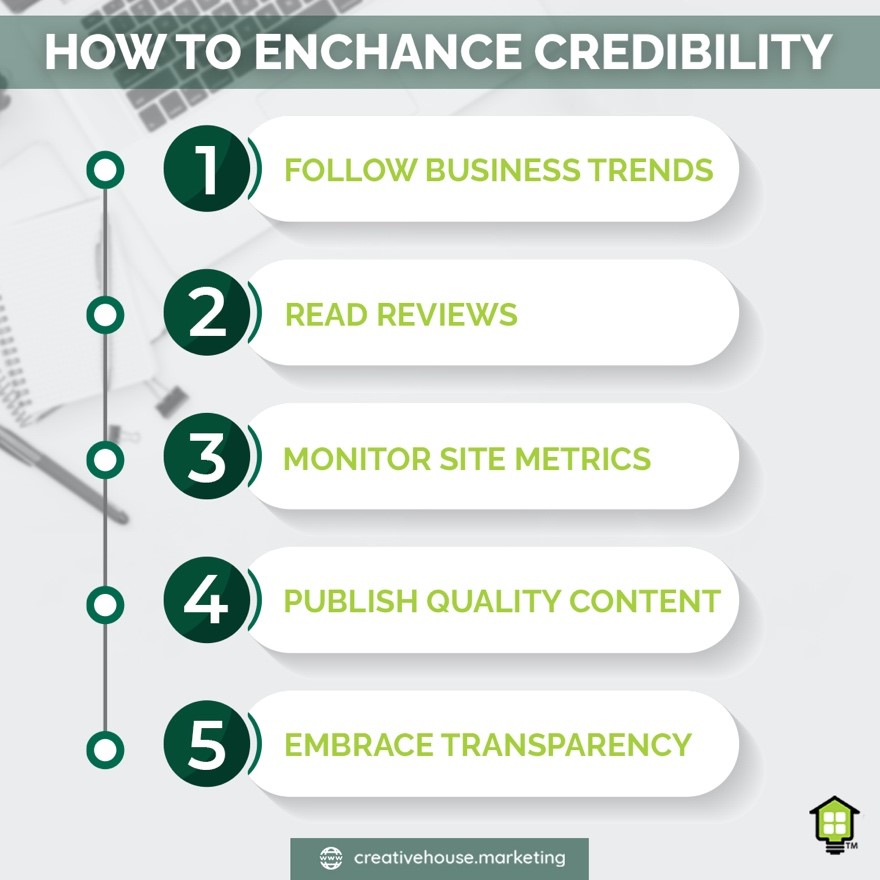 The credibility of a brand is built on a cause-and-effect relationship. As a brand, you have to work hard to maintain a positive image through strategy, high-quality products and services, and excellent customer service.
Here are five steps that can help your business enhance its credibility:

–Follow contemporary business trends
Prevent your company from becoming outdated by staying on top of the trends in your industry.

–Familiarize yourself with your customer reviews
Knowing what people say about your brand gives you a road map to steer your company image in the right direction. Put the information from your customer reviews to good use and use them as guidelines to update your brand.

– Monitor your website metrics
Tracking some specific site metrics will help you identify the aspects which can be enhanced. Take a look at your bounce rate, loading speed and page depth and adapt your website experience to your customer's needs.
– Post high quality, engaging content
Consistent, high-quality, engaging content adds visibility to your brand and will surely boost your image in your environment. Having a social media strategy is a powerful marketing move in any industry.

– Embrace transparency
The goal is for your brand to be associated with positive things such as reliability and credibility. In terms of any business, one misstep might jeopardize your reputation. As a result, an increasing number of businesses are prioritizing transparency as a means of gaining consumer trust.

Great minds create strong teams! Creative House is committed to assisting you in achieving success in the digital era. Get in touch with us through our social media or on creativehouse.marketing